Prepare to be Academically Challenged!
Passing by Room 219 on a Tuesday afternoon, you may see a roomful of students locked in on a most peculiar question being asked, hands hovering above game buzzers, and spontaneously shouting "Ray Bradbury!" now and then. This is the wonder known as Academic Challenge, a fun club where students get to test their knowledge through trivia competitions and teamwork. Seton's Academic Challenge team has been around for years and went on to claim the regional championship in March of 2022. The team lost many valuable members who graduated in 2022, with only three veterans remaining to start this school year. However, turnout from new, dedicated members is ensuring Seton's climb back to a strong, prepared team ready to take home another trophy!
Academic Challenge meets every Tuesday after school for an hour, with Mrs. Wright as the club's organizer and coach. In addition to providing delectable snacks for the team, Mrs. Wright compiles lists of questions to test their random knowledge. The categories range from about anything to everything: math, science, geography, literature, history, art, music, and pop culture- anything is up for grabs! Using game buzzers to simulate competition, the students listen to each question, buzzing in to answer. Though such questions may seem intimidating at first, a well-rounded team dynamic helps to take the pressure off: "You don't have to be knowledgeable in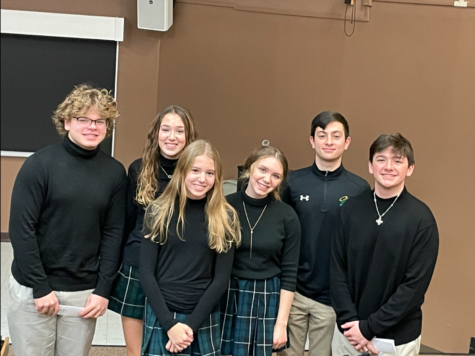 every subject, as everyone on the team is working together, each having their strong suits," member Sophia Burr explained.
The Academic Challenge team competes in two competitions at SUNY Oneonta every year in January and March. This year, the club was fortunate enough to have enough members to enter two teams. At the competition, each team plays three games consisting of five rounds each, then plays in a bracket for the championship (determined by how well they did in the first three games).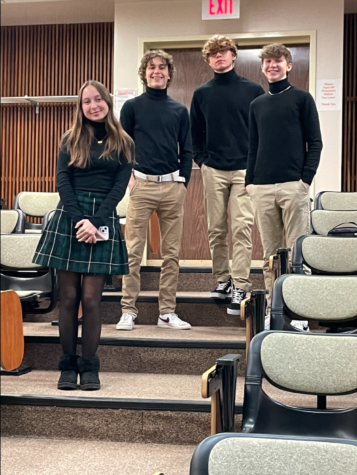 In January's competition, the "B" team won one of three games and did not have a chance to compete in the championship bracket. Nonetheless, considering that the team consists of younger members (juniors and sophomores) who have never competed in Academic Challenge before, Mrs. Wright commented that their performance was "exceptional", and we at the Voice of the Saints have to agree. The "A" team emerged victorious from their first three games, crushing the competition. The accomplishment is quite commendable as like the B team, the A team also consisted of many new members who went into the competition blind. Their loss to Cooperstown A in the quarterfinals was devastating, but it has motivated the team to work harder by taking practices more seriously and even studying on their own to improve. When asked what their goal was for the next competition, the team yelled out in tandem "Beat Cooperstown A!"
Aside from providing students competition in an area other than sports, Academic Challenge allows students to build life skills, not to mention have fun! "I enjoy Academic Challenge because it allows us to challenge ourselves," senior member Olivia Leuci commented "We all support each other in a team environment." The club encourages students to expand their knowledge and helps them develop the crucial skill of teamwork, which can be used for the rest of their lives. Furthermore, Academic Challenge helps form bonds between team members in ways other activities cannot: "We're all learning and growing as people together," senior member Evan Wenzinger explained.
In addition to the outstanding achievement of our Academic Challenge team, we must not forget to applaud the heart and soul of the club, Mrs. Wright. Mrs. Wright has organized and coached Academic Challenge for years: "The person that I took over for was Mrs. Puthuala. My daughter who graduated thirteen years ago was in it, so I've been doing it for a while, at least since 2010." Mrs. Wright takes her time, effort, and money to support the club: finding various questions, quizzes, and games for the team to use, practicing with the team every Tuesday for an hour, and buying snacks to refuel her team members. Without Mrs. Wright, students wouldn't have the opportunity to gain more knowledge, form friendships and have fun through Academic Challenge. When asked what keeps her coming back to support the club every year, Mrs. Wright fondly responded "my love of my students". 
Seton's Academic Challenge team's hard work and dedication continue to pay off as they improve their competition skills and expand their knowledge at every meeting. The team encourages other students to join the club, which is open to new members at any time! Just stop by Mrs. Wright's room on a Tuesday after school, grab a snack, and see how much you know about- well, almost anything! We will be cheering on our Academic Challenge team as they enter their next competition in March, positive that they will exceed above and beyond in all they do!
Academic Challenge Team:
A Team:
Mary Catherine Burtis- Sophomore
Olivia Leuci- Senior
Ashton McCann- Senior
Evan Wenzinger- Senior
Connor Atchie- Senior
Grace Kane- Senior
Matthew Searles- Junior
B Team:
Issac Garcia- Junior
Cash Vaughan- Junior
Roger Brooks- Junior
Alexandra Back- Sophomore
Sophia Burr- Sophomore
Morgan Collett-O'Brien- Sophomore
Keyahn Sethi- Junior