How a Sinner Spread the Message of God – The Michael Phillips Story
The Incredible Life Story of Mike Phillips as Told by Mr. George Phillips
Mr. George Phillips, a long-time teacher at Seton Catholic Central and graduate of the class of 1994, has written a book about his late brother, Mike Phillips of the class of 1980, entitled: "Did a Sex Abuse Survivor Have Conversations with Jesus?  The Incredible Story of Mike Phillips: Anorexic, Alcoholic and Champion of the Poor," and is now working to publish the incredible story and get it on bookshelves soon.
Throughout his time teaching at Seton Catholic Central, Mr. Philips has shared the story of his late brother with many classes over the years. The story is one of remarkable charity and piety and serves to send a message to his students about living a life full of God and living His word. Mike Philips had a very eventful life, as described to us by George. "He endured failures in football and romance and developed a drinking problem before beginning a career in working with the poor that took him to Franciscan seminary, Covenant House – a homeless shelter in NYC and to a lengthy career as a drug abuse counselor at the Broome County jail." Everywhere Mike went, he spread the word of God, always bringing a smile to peoples' faces. Mike always made an effort to befriend and provide help to everyone, even if nobody else would. "Mike Phillips went from a shy freshman at the newly formed Seton Catholic Central to a leader of a group of misfits called the Irregulars by his Junior and Senior year," Mr. Philips tells us. These 'Irregulars' were a self-dubbed group of students who had been rejected from other social groups and often left out at the school. Mike befriended them and helped bring them together, forming their own circle of friends that persisted well out of high school. Mike Philips would eventually pass in 2010 from an eating disorder, linked to childhood abuse issues. This disorder did not stop him from always bettering himself, overcoming alcoholism, and leading an incredible spiritual life full of charity and kindness. Mr. George Phillips expresses that "Amidst his struggle with anorexia, Mike's journal offered powerful insights into his faith and relationship with Jesus," and many in the community would agree.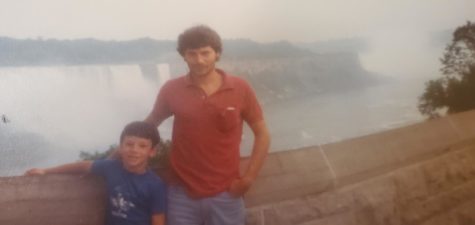 Mr. Philiips reveals to us that "upon his death, the Catholic Sun – the Diocese of Syracuse's catholic newspaper – published an article "His Life is a Lesson" about Mike's remarkable life of faith and charity.  On a social worker's salary, Mike gave $250,000 to Catholic Relief Services – which supports the poorest of the poor in the world." Mike led a life exemplary of the Catholic message: charity, kindness, and selflessness. His main priority throughout his entire life was to help those in need, no matter the circumstance, even at his own expense. Mike's life serves as a lesson and example to all aspiring Catholics that they can always do good for the world and make it a brighter place. After his death, his family would publish his journal, titled "Conversations with Jesus," as well as his spiritual writings, "The Passionate Love of Jesus as Experienced by a Sinner." Both of these publications serve to spread Mike's interpretation of the Catholic Message and help anyone struggling to find their own faith or face their own hardships.
Mr. Phillips is now working on publishing his book "Did a Sex Abuse Survivor Have Conversations with Jesus" to "tell the remarkable story of faith, redemption, and hope of my brother and mentor and to inspire all those dealing with addiction and abuse." He says that "Several Catholic University presses have expressed interest. I will soon be working with an editor to prepare my manuscript for publication. Two amazing chapters are dedicated to his time at Seton and the book is dedicated in part to his friends – the Irregulars. It is a great read for any Seton student or alum and I hope it will be on (physical) bookshelves soon." The book serves as a way for anyone struggling with their faith or friendships to learn from Mike and know the teachings of Jesus, even as sinners.
The Voice of the Saints will continue to cover the progress of this publication and other works of our own Mr. George Phillips as they come and continue to help spread the message of faith and kindness as expressed in the extraordinary life of Michael Phillips.