Local Business Owner Spotlight: Rob Baxter
Robert Baxter, owner and operator of BX Player Development Group has been helping local young athletes hone their skills for almost 20 years. The former division one college basketball player for Fordham University has helped countless players accomplish their athletic goals through strength, conditioning, and sport-specific training.  With his athletes attending several major division one schools, notably Seton's very own Peep Williams who is playing lacrosse for Stanford, he has cemented himself as a staple in the Greater Binghamton sports scene.
Baxter operates out of his facility in Northern Binghamton, where he trains groups ranging from 3 to as many as 8 young athletes at a time. A lot is packed into his hour-long sessions and he uses his years of expertise to instruct each player on how to get the most out of the time. "In general, our concentration is on helping them improve their physical abilities as athletes, with the goal of both reducing the percentage of injury while training them to become stronger, faster, and more powerful players," Baxter told us. Using exercises ranging from yoga, to sprinting, to explosive weight lifting, Rob Baxter helps his athletes gain an edge over the competition when it comes to speed, strength, flexibility, and injury prevention. Aspiring athletes from many different ages and skill levels are welcomed into his gym, from middle school, all the way to professional athletes.
Helping young athletes has been something that Rob Baxter has found great fulfillment in throughout the years, and there isn't a day when he doesn't enter the gym with a smile. Sessions at BX are always something that Rob's athletes look forward to, and Baxter prides himself on building relationships with his athletes. "While it's certainly imperative that you fully know what you are doing, establishing and maintaining that trust with an athlete is a must. Building relationships is an important factor in achieving success in this field," said Baxter. The entire process of helping build up young athletes in their sport as well as their character is something that Baxter finds "extremely gratifying". He is truly in the business for the positive impact that he can leave on people's lives. "We impact people's lives in so many amazing ways," he said. According to Baxter, this impact that he has on others is a huge motivator for doing what he does.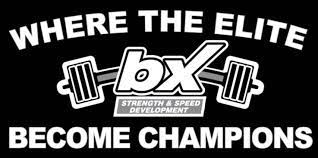 Recently, Baxter has expanded his training expertise to the area of yoga with his latest venture "Little Martha Yoga". When asked about this, Baxter had this to say, "Recently, I have re-invented myself a bit in the development of a new hot yoga business." Yoga is something Rob has practiced himself for almost ten years now, and he is merging his found love of yoga with his profession in teaching and training. "This allows me to expand business into an adult client base, while also helping out my athletes. It's a win/win situation.", he says. Not only does Little Martha Yoga allow him to expand his clientele, it also allows him to expand his knowledge in the world of yoga and training alike. "I am utilizing many of the skills I've developed owning BX the past 19 years, but I'm also learning so many new things," he said.
Despite the many ups and downs of running a business, Baxter says that he enjoys the challenge of trying to be the best version of himself. He attributes his ability to stay positive to doing what he loves, always learning, and always having gratitude for all the blessings in his life. Rob shares this advice to anyone pursuing their passion, "It is important that you enjoy and possess a passion for the work. This enables you to have a positive attitude each day! Also, always continue to absorb new information and find ways to better yourself." All of Rob Baxter's trainees know him for his infectious positivity, and it is an attitude that he has inspired in all of them. Whether it is a yoga session, a basketball practice, or a strength workout, the atmosphere is always welcoming and supportive.