Binghamton University Celebrates Over 4,500 Graduates at Commencement
Binghamton University recently hosted a large, weeklong Commencement event on the campus for their soon-to-be graduates. There were 10 separate Commencement ceremonies to celebrate over 4,500 students receiving their bachelor's, master's, and doctoral degrees. The first ceremony, the Doctoral Hooding Ceremony, took place at 3:00 PM on Wednesday, May 10th. The rest of the ceremonies were held from Friday, May 12th, to Sunday, May 14th. The pharmacy school and doctoral hooding ceremonies were held at the Anderson Center's Osterhout Concert Theater, while all other ceremonies were held at the Events Center on campus.
President Harvey Stenger said that, "Commencement is exciting, not only for our thousands of graduates, but for their families and friends, and our faculty and staff." These ceremonies bring people of the community together to honor the accomplishments of the college students. The president hopes that as they move on to the next chapter of their lives, they will continue making a positive impact on our world and make Binghamton University proud.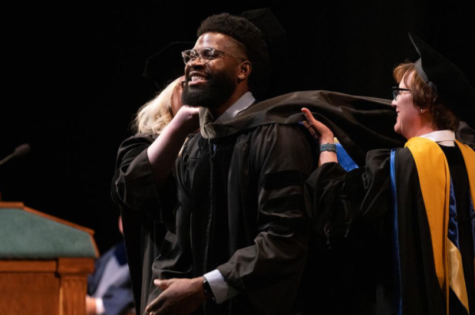 Over 3,400 students received their bachelor's degrees, more than 800 students received their master's degrees, around 130 students became doctors, and there were 81 new Doctor of Pharmacy graduates. Each school and college had its own ceremony. Harpur College of Arts and Sciences had three ceremonies on Saturday, May 13th, to accommodate all its graduates. The School of Pharmacy and Pharmaceutical Sciences held its ceremony at 10:00 AM Friday, May 12th, followed the same day by the Decker College of Nursing and Health Sciences ceremony at 1:00 PM, and the Master's ceremony for candidates from Decker College, Harpur College, the School of Management and the Thomas J. Watson College of Engineering and Applied Science at 4:30 PM. Master's candidates from the College of Community and Public Affairs (CCPA) were recognized during the CCPA ceremony at noon Sunday, May 14th.
This ceremony goes to show just how prominent and successful Binghamton University is, boasting so many graduates with various impressive degrees and accomplishments. It helps bring a sense of pride and togetherness to the community, and shows how we stand out from the rest, and inspires future students to reach for the stars and consider somewhere local for their higher education.