Why do we Value Christmas so Highly?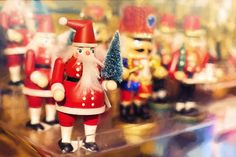 For Christians and us at Seton, Christmas is a religious holiday celebrating the birth of Jesus Christ. But for many Americans and non-religious, it has become a secular holiday as well, marked by the exchange of gifts, the decoration of homes with evergreen trees and bows, the Yuletide Dance and Christmas concerts here at Seton, and the arrival of Santa Claus. What is the history behind Christmas, and why do we celebrate it?
Christmas is celebrated every year on December 25th by millions of people around the world. The word "Christmas" comes from the Old English "Cristes maesse", meaning "Christ's Mass". Christmas wasn't always celebrated on December 25th. In fact, the early church didn't celebrate it at all! It wasn't until 336 AD that Emperor Constantine declared December 25th as the official date to celebrate Christmas.
Santa Claus, originally based on Saint Nicholas, a 4th-century Christian bishop known for his generosity, has become synonymous with Christmas. The tradition of exchanging gifts is also thought to have pagan origins, originating from Saturnalia when Romans would exchange gifts with one another. However, many Christians see gift-giving as a way to honor the Three Wise Men who brought gifts to baby Jesus in the nativity story. 
In addition to its rich history, Christmas has become a highly commercialized holiday in America. This can be both good and bad; on the one hand, it can be overwhelming to be bombarded with advertisements and pressured to buy gifts for everyone on your list. On the other hand, businesses go all out during Christmas time, which makes the holiday season even more festive. Many people love seeing their favorite stores decked out in holiday apparel and taking advantage of sales and discounts.
What really makes Christmas special in America is the spirit of giving that comes along with it. During the holiday season, people are generally more charitable and willing to help those in need. shelters see an increase in volunteers, food banks overflow with donations, and people are generally more aware of those less fortunate than themselves. While materialism may play a sizeable role in American Christmas culture, at its core, Christmas is still a time to give back and spread some holiday cheer.
For many Americans, Christmas is a time to gather with family and friends. It's an opportunity to catch up with loved ones that you may not have seen in a while and to create new memories together. Spending time with those you care about is one of the best parts of the holiday season. We exchange presents with our loved ones as a way to show them how much we care. It's also a fun way to surprise each other with thoughtful gifts that we know they'll enjoy. The holidays wouldn't be the same without giving and receiving gifts. Christmas is a time for holiday cheer; from decorating our homes and workplaces to watching festive movies and listening to holiday music, there are so many ways to get into the Christmas spirit.
Christmas is a cherished holiday in the United States for many reasons. From spending time with family and friends to exchanging gifts and spreading holiday cheer, there's something for everyone to love about Christmas. We value this holiday so highly because it brings us joy, connection, and happiness during what can often be a hectic and stressful time of year.