Maya Lalor – Athlete Profile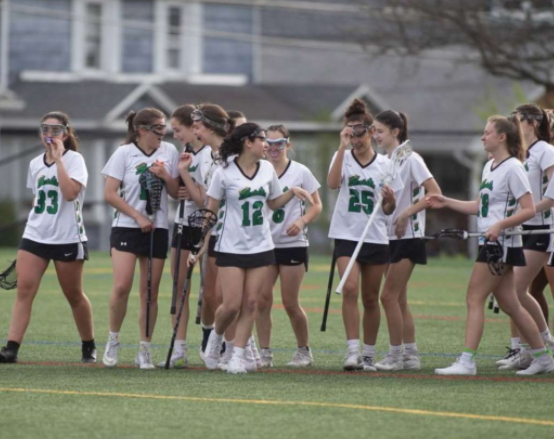 The team is one of the most important aspects of many sports. It is a bond of camaraderie that forms on the field and persists off it. Each player has their own strengths and weaknesses, and how these traits are used together determines how successful the team will be. Without proper composition, a team will crumble and fall, no matter how skilled the players are. Every team needs a leader, a player that is willing to take charge and inspire the team to victory. A good leader will analyze their situation and make judgment calls based on who and what is involved. When the spear of a team gets its head, there's nothing it can't accomplish with hard work and dedication, and senior Maya Lalor is as sharp as ever.
Maya Lalor is no stranger to coordinated sports, having played varsity tennis, second and third doubles, for four years and varsity lacrosse for two as a defender. In both sports, Maya has made it to sectional finals. This year in tennis, they were Class A sectional champions. Last year in lacrosse, the team made it to sectional finals and lost by only two points to Whitney Point.
"I consider both sports team sports, even though people say tennis isn't. I think it is." Maya always puts her team first, even when asked about her own accomplishments, always making sure to say "we" to include the team. "Some of my main characteristics, in both sports, is just the energy I bring. I'm always very enthusiastic and excited, especially for my teammates." It's no wonder that Maya makes for great inspiration on the field, as she always strives to be that leader that others can look up to when all seems lost, encouraging them to keep pushing forward until the end. Her lacrosse coach would agree, saying, "Maya has a positive attitude. She's a team player with a good work ethic, and she acts as the voice of the team, holding teammates accountable and always committed to their success."
Seton is glad to have such a key role model in its sports programs, and we can't wait to see what Maya will bring to the table for her last year as a Saints athlete.