The History Behind Seton's Mascot
As Sebastian the Saint Reaches His Sixth Year, Here's a Look Back at His Story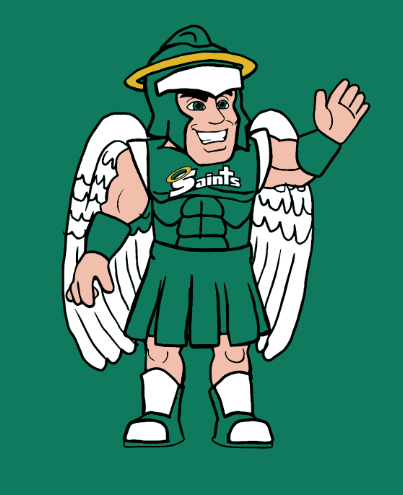 As Sebastian the Saint Reaches His Sixth Year, Here's a Look Back at His Story
You may have seen him at one of our basketball games, cheering on the team and getting the crowd excited. You might have seen him aboard a float advertising the Catholic Schools on parade day. Or you might have met him at one of the elementary schools' ice cream socials, welcoming back students for another year. There's no question about it: our school mascot, Sebastian the Saint, is a prominent character. But there were several times our school came close to not having Sebastian, or being the Saints, at all.
In 1976, Seton Catholic Central came to be through a merger of two schools: Seton Catholic,  located where All Saints School stands, and Catholic Central, which taught in our current building. The Seton Catholic Royals used royal blue and white as their colors, while the Catholic Central Crusaders were marked with purple and white. Since it was decided Seton Catholic Central was a brand-new school, the administration chose to not take either school's colors or mascots and instead put it up for a vote to the students. There was a list to vote off of for both. The Saints won by an overwhelming majority, and as you can probably guess, the colors chosen were green and white. Mrs. Murphy, who worked in the Athletics Department at the time, recalled what some of the options were. "All kinds of colors. I mean, you name it and they could vote on the color." As for the mascots, the options seemed endless as well: "Let's see. There were lions and tigers and bears. Oh, my…I really can't remember any of the others, but Saints was overwhelming."
After Saints was officially selected, Sister Mary Ellen Hogan began writing the new alma mater. "She was a music teacher here. And she wrote the alma mater for us." Mrs. Murphy explained. "It was not a real easy thing to do." At the same time, Mrs. Highland, an art teacher at our school, created the logo for the Saints. This is the picture of the Saint in a robe with a halo that you can often find around our school or on old yearbooks.
Mrs. Highland also created the original mascot outfit, which was mainly papier-mâché. From the costume's conception in the late 70s, the mascot was designed to run around at the games and help fuel school spirit. This mascot was still in use 20 years later in 1999 when Coach Sinicki started coaching basketball.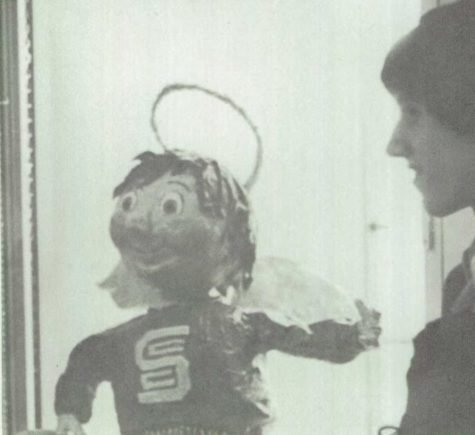 It wasn't until the costume was almost 40 years old, in 2017, that the school finally decided to revamp it. The mascot needed to be modernized. Be bolder.
"Times change, and maybe it was a little cartoony and maybe a little outdated. Maybe the poor guy's face was kind of falling apart." Coach Sinicki joked. "[The mascot] was around since 1976 or so… It had its days and ran its course."
In April 2017, this dialogue became a reality after donations to the school made the roughly $3000 venture possible. During that summer, details were finalized, and our new mascot – Sebastian the Saint – made his debut that fall.
The name Sebastian comes from Saint Sebastian, one of the patron saints of athletes. The alliteration between Sebastian and Saints worked nicely, and the name was quickly approved.
The design, however, was a much more painful process.
To build the costume, the school contacted Jevin Fluegal, a professional in the mascot world with local ties. He introduced the CSBC to Erin Blake of Keystone Mascots, LLC, a professional mascot company, to help design and develop a program for our schools. Countless designs were sent back and forth between the two parties. Coach Sinicki recalled it was a constant game of "We like this, but we don't like this." The school wanted to make sure they designed Sebastian right. "We didn't want [him] to look too threatening or fierce. We want to make sure he's smiling. We want to make sure that he looks welcoming."
Technical decisions were made, such as choosing what type of fabric to use. Specifically, an issue arose with the wings. How would they stay on? How could the costume be built so they wouldn't constantly break or tear? The school also considered how difficult it would be to carry and move the costume. Sebastian was supposed to be seen all over the Triple Cities, so the outfit had to be efficient enough to transport. Finally, the ultimate design emerged.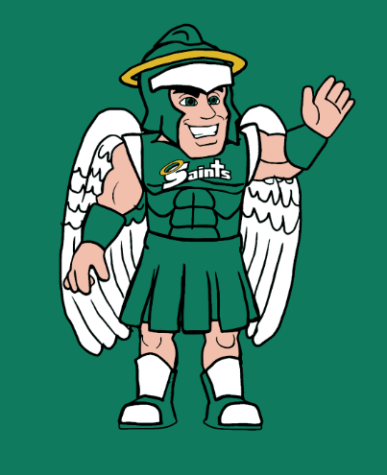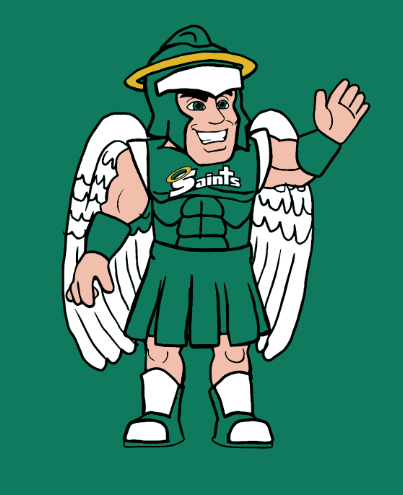 Sebastian can be found at boys' basketball games, senior nights, parades, ice cream socials, or opening picnics. Over these past six years, he's gotten quite some mileage. Seventh grader Victor Bohr wore the costume at the parade, and had a great time. "It was a good experience! I would be willing to do it again," Victor told Voice of the Saints. "I think every person should do it once." Several students have worn the costume over the years besides Victor, including me. I have to give props to any students who don it. It's hard to describe how hot it is inside the costume, but the cheers and excitement are worth it.
Sebastian's job is to bring school spirit, and he's excelled at it thus far. Coach Sinicki agrees: "It represents our school in a positive way, not only outside the community…but within the community, drawing everyone together, especially those young kids…I think it galvanizes the Catholic schools too, as well. I think it's a neat thing, that we're happily able to offer."