Seton Lacrosse Scores Their First Shutout Since 2015
In a tremendous feat, the Seton Catholic Central Boys Varsity Lacrosse team achieved their first shutout victory since 2015, beating Oneonta with an overwhelming 18-0 score on April 13th.
Rory Callahan led the assault with a whopping 7 goals, with John Ricci close behind at 5 goals. Keyhan Sethi contributed 3 goals to the victory, with Gabe Cawley following with 2 goals and Nate Yuhnick with 1.
The Saints continue their seemingly unstoppable winning streak, having previously won against Dryden 13-6 and Watkins Glen 16-3 before the big win on Thursday evening. This victory marks the first shutout since 2015, meaning that the Boy's Varsity Lacrosse team won a game without the opposing team scoring any points.
"We have our eyes on the prize," said Junior John Ricci. The team hopes to keep pushing forward and eventually win sectionals this season but states that they have steep competition in the future. "Chenango Forks, Chenango Valley, and Elmira Notre Dame are in the way, but I'm confident this year is going to be our year."
There are still plenty of games left in the season, but hopes are high and spirits are raised as the Varsity Lacrosse team continues to achieve overwhelming victories so far.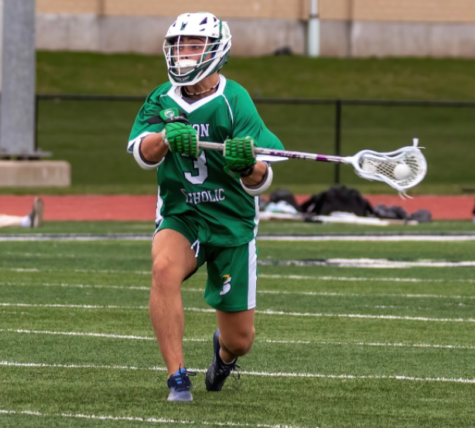 The lineup for the Varsity team this season is bright, with a strong and experienced wall of defenders, a lightning-fast squad of midfielders, and an unrelenting offensive force. Several players this season have reached their 100 points milestone, including Attackers Cash Vaughan and Rory Callahan, a Junior and Sophomore respectively.
New, old, and returning players alike have enjoyed new equipment and uniforms this season, ranging from fresh green and white jerseys and shorts to brand-new themed pads and gloves, provided by the generous donations of Seton Boosters.
It's a great season to be a Saint, and we wish the team more victories to come on their road to sectionals.