Croatia Trip Adventure!
In April, a group of twelve students accompanied Ms. Schmidt on her annual spring break trip to Europe. This year, the group visited Croatia, Slovenia, and Italy. The Voice of the Saints got the chance to talk with the travelers about their experience with new countries and share some of the fun times they had!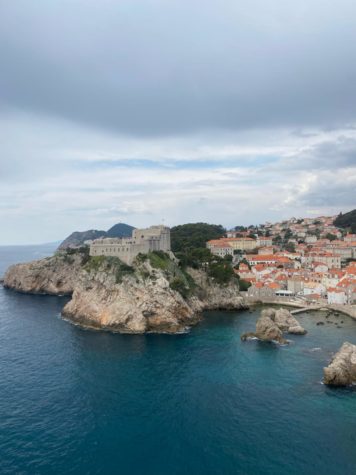 In just about a week, the crew covered a vast expanse of Europe. From JFK Airport, wheels touched down in Dubrovnik, Croatia, where part of the series "Game of Thrones" was filmed. The city is heavily fortified, surrounded by walls that the group walked around, getting some breathtaking views. After staying in Dubrovnik for a few days, they traveled to Split, a coastal city on the Adriatic Sea, and home of fourth-century Roman emperor Diocletian. They had the chance to visit Diocletian's palace: "It was really cool. We got to see where the rulers slept, dungeons, armor, the artwork that they had, and learned the history behind it," senior Olivia Leuci commented.
When they traveled to Zader, the group got to see and hear a sea organ, with pipes built into concrete steps, that rings out notes as water washes over them. The travelers experienced more of nature's wonders in Plitvice Lakes National Park. "I got a notification on my phone that my screen time went down 37% on the trip because we were just so engaged. I feel like it made me disconnect and focus on how beautiful the world is," Olivia shared.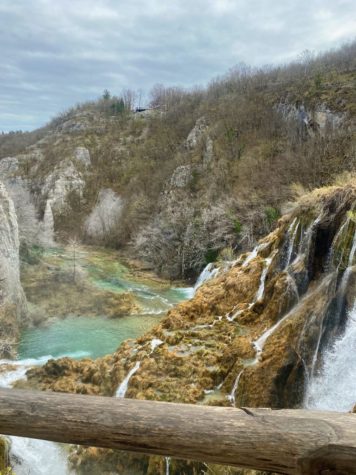 Leaving Croatia, the group ventured on to Ljubljana, Slovenia, and visited Ljubljana Castle, which is seated atop a mountain, and was once a medieval fortress. They toured the castle and enjoyed a riverboat lunch. Traveling into their last country, Italy, the students came to Trieste, a coastal town, and ended their journey in Venice. Sophomore Sara Lalor told us about one of her favorite parts of the trip: "When we drove into Venice, we were just supposed to go to our hotel for the night. But then, Ms. Schmidt told us that she was going to try and get a water taxi to go into Venice and have dinner there. We ended up doing that, and I think that ended up being one of the most fun nights."
Though they were busy traveling from place to place and taking group tours, the students mentioned how much they enjoyed the trip because of the free time they were allowed. Olivia Leuci explained, "On free time, you got to go eat and experience the cuisine. We also got to go to shops, which was so cool, because we got things that were made there," motioning to the jewelry she was wearing, she continued "I got this ring and bracelet in Italy, so it was really neat coming home with all these things that have a little story behind them."
The students also reflected on their experiences with new cultures. In terms of food, they found that "safe" options for those who may not wish to experiment were available in addition to cultural cuisine. Differences in the way Europeans and Americans dress exist as well. "They do dress a bit more stylishly. That's one way Europeans can always tell Americans. They think Americans dress very sloppy and can tell by our footwear, t-shirts, and things like that," Ms. Schmidt explained. Both the travelers and Ms. Schmidt agreed that all those who gave them hospitality were kind and helpful. "The people there were really nice; the workers were so sweet and fun, and it was awesome to interact with them," Olivia told.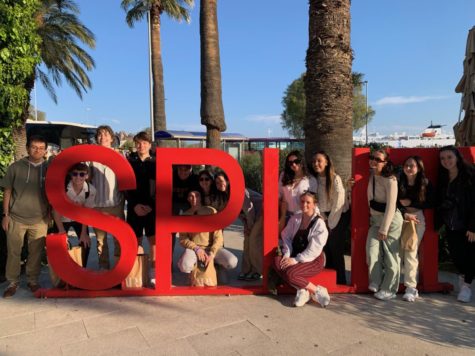 Though the trip is over, its impacts on those who went on it still stand. Sara shared, "Just seeing how different people live, experiencing different foods and places, I think that's good for everyone. You shouldn't stay in one place forever." Ms. Schmidt, who has coordinated the trip for over 24 years, gave some insight as to how she's seen the journey's effect on students. "When the kids are there, they're taking everything in, and it's almost sensory overload because of different languages, foods, and sights." She is certainly not wrong, as each day is stocked full of events, with new experiences to be found everywhere. "The impact will be felt later on in an empowering way that they went outside their comfort zones on different levels. They go away to college and experience different things, and hopefully, they'll reflect on this and say 'That was a new experience and I conquered it, and I can conquer this new experience too!"
Without Ms. Schmidt, this opportunity wouldn't even exist for students. What keeps her coming back to put in the hours of tedious planning, preparing, and guiding every year is "the excitement of being able to share it with the students." She explained "I get to see things through the kids' eyes, which I love. I just love being able to provide this opportunity because of the comments they make afterward about how different things are. There is a lot of diversity within our own country, but then to take kids out of the country is very cool for me."
Ms. Schmidt is already setting plans for next year's spring break trip! It includes stops in Zurich and Lucerna, Switzerland, a walk through a glacier, Lake Como, the French and Italian Rivieras, ending in Barcelona, Spain, and more! The students who came on this year's trip had nothing but praise and high recommendation. Sara Lalor commented, "It was an interesting experience. If you want to experience new cultures with your friends, this is a great way to do it."