Kaelin Thomas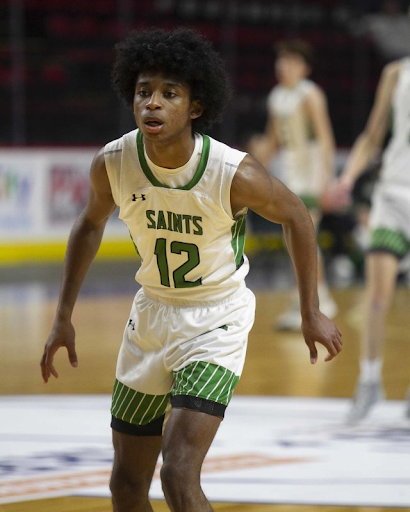 When Kaelin Thomas decided he was transferring to Seton for this senior year, he knew the work he would have to put in to reach his goals. Little did he know he was going to become a 1st team all-state selection and Sections IVs class B player of the year.
Back in June of 2021, Kaelin was up in the air about coming to Seton or staying for his senior year at Binghamton. He had pros and cons at each school but ultimately chose Seton. The main reason he decided to transfer was the previously successful teams at Seton and he knew he could contribute to another very successful team this year. He felt he had a greater chance to reach his goals at Seton, personally and as a team.
Now, this past April talking about this past season he feels no regret about transferring to Seton. When giving his speech at the basketball season's banquet, he spoke about how Binghamton will always be his home but the bonds and memories made at Seton will last forever. Quoted "I want to thank everyone at Binghamton because y'all will be my brothers, but Seton will always be family and my place I call home."
 Kaelin is a fierce competitor and a hard worker. Over the summer and fall, he trained almost every day and was constantly perfecting his craft. From shooting workouts to ball-handling, to weight training workouts by himself all this dedication ultimately made him ready for the season. 
During the season Kaelin had to take on a new leadership role. It was tough at first because he had only been at Seton for 3 months at the time. However, he quickly filled that leadership position and did it with great enthusiasm. During practice, he was constantly communicating and showing younger players how to do things. Many players looked up to him not only as a teammate but as a friend and "brother". Throughout the season there were some hiccups just like any sport, but Kaelin was that "glue" that kept the team together. The 2021-2022 boys basketball team finished with a 20-3 record and ranked 4th in the state. Kaelin also had very impressive stats with 16.9 points per game and 5.1 assists. He was selected to the prestigious 1st team all New York State Class B team, won class B section IV player of the year, and was selected to be on the Elite 15 Binghamton boys all-star team.
Kaelin has a couple of options for his future plans. He is currently undecided about going to play college basketball right away or going to a prep school for a postgraduate year. Whatever he chooses, we want to thank him for everything he has done and wish him the best of luck on his journey!