Student Athlete Highlight: Megan Derr
Student Megan Derr details her experience as an athlete at Seton
Any sports field is a battle for eye-catching glory. In lacrosse, a fast break from the star player or an unexpected rookie gets the crowd reeling and screaming "Wheels! Wheels!" while they daze past the defense and face off against the last girl standing: the goalie. Except, there's no battle, no hesitation, no restraint; the goalie isn't there and it's just a curling stick ready to release all the momentum and excitement into a single shot. But what if the last girl standing isn't behind the crease, what if the stick ready to thrust the ball and hear the swoosh of the net is ceased by an overwhelming force. An impenetrable fortress between the attacker and her goalie. The great wall of defender Megan Derr; Seton's very own guardian angel. 
Megan Derr is the defensive leader in every sport she plays. In lacrosse, her leadership skills and inborn initiative are a blessing, while her overpowering will is a force to be reckoned with. In her role, Megan holds many responsibilities; "you have to be able to know how to tell people what to do without making them mad." She says that because her team doesn't really have a defensive coach, that responsibility falls on her. Her people skills coincide with her leadership skills, which almost makes her a natural, but she owes much of her social personality and life to sports. 
Megan started playing soccer when she was 2 years old, she started playing basketball shortly after and then began playing lacrosse in 1st grade. Lacrosse hasn't been a favorite sport of hers as she only joined to be with her friends and for extracurricular credit, but she is very passionate about her other sports, especially soccer.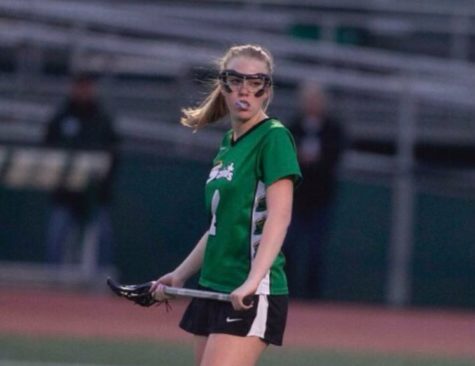 Megan's athletic career hasn't only led to amazing accomplishments, including a sectional championship when she was in 8th grade, but also to an exciting social life and new opportunities. "If I wasn't doing sports, I wouldn't have 90 percent of the friends I have now," Meghan says. "I have so many friends at different schools because I've either played against them or played on travel teams with them." But leading a successful athletic career in high school is very demanding. Megan has had to sacrifice much of her academic and social life for sports. "I don't have a lot of free time. My Mondays through Saturdays are typically taken up by practice and games for like 9 months out of the year." 
Nevertheless, Megan's athletic career at Seton has opened up new windows of opportunity as well as long-lasting memories and friendships.