Rory Callahan Lacrosse Profile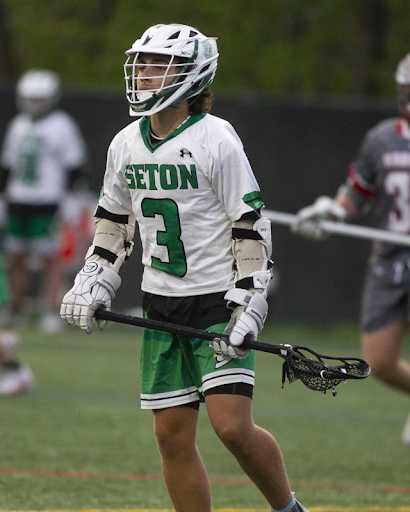 Rory Callahan is a rising star on the varsity lacrosse team here at Seton. The freshman has opened many eyes this year with his ability to score the ball and has worked hard to get to the skill level he is on right now. Rory played modified lacrosse last year leading his team to an undefeated season. Rory was good last year on modified, but the improvement he's made from last season on modified to this year on varsity has been fun to watch.
Rory took his offseason very seriously playing travel lacrosse and practicing every day. Rory tried new skill work and drills this offseason. He had never done these drills before saying, "I did drills that made me uncomfortable to make me a better player."  This experience improved Rory's skills in the off-season. During this offseason practice,  he scored 56 goals in only 14 games so far this season. How did he score all of these goals? Rory is a very gifted lacrosse player. He can shoot the ball super fast and is very accurate with his shots.  He is also very physical when he plays. Rory knows that if he is open his teammates will find him so he can get a shot off, and his teammates know he will do the same for them.
Rory is not just a lacrosse player, he is a multisport athlete. Besides lacrosse he enjoys snowboarding, playing soccer, and ice hockey. When asked about his favorite of these four sports he said: "lacrosse, and hockey because they're the most physical."  Rory is an all-around athlete and has already picked up an interest to play lacrosse in college. 
Rory is an underrated athlete with tremendous skill.  He says he will continue to work on his game this off-season and become a better player for next season. If he continues playing lacrosse and continues to get better at it, he will be a very successful attackman and hopefully a successful college player.