Seton Boys Lacrosse Senior Night 2022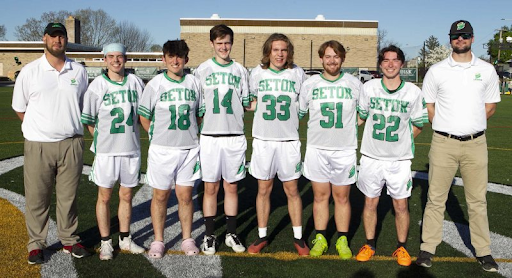 On Tuesday the 10th of May, the boys' lacrosse team had their annual Senior Night as they played the opposing Dryden Lions. The Saints crushed the Lions by a score of 14-1. The graduating class of 2022 went out with a bang. Matthew Beach, Atticus Fauci, Seamus McGovern-Lind, James Yuhnick, Ian Phillips, and Adam Ackerman were all seniors on the team.
From the faceoff, the Saints dominated ball possessions against the Lions. Atticus Fauci played an integral part as he won almost every faceoff. The tough defense led by Ian Phillips and Riley Callahan limited Dryden to single-digit shot attempts. Freshman goalie Julien Montalvo played tremendously and only let in 1 goal on 9 shot attempts. Rory Callahan led the Saints' attack with 8 goals with help from attackmen Gabe Cawley and Andrew Lalor.
 The boys got off to a fast start with goals from Rory Callahan and Gabe Cawley making the score after the 1st quarter 2-0. Starting the second, Gabe Cawley ripped in another shot with Andrew Lalor adding a goal minutes after. Rory Callahan scored 3 more before the half to make the score 7-0. 
Starting the second half the Saints didn't let down with the attack on the offensive end. They poured in 3 more goals in the third from John Ricci, Andrew Lalor, and Rory Callahan. The Dryden Lions slipped a goal through the tough defense of the Saints leaving the end of the third 10-1. The Saints capped off the senior night with 4 more goals in the fourth ending the game 14-1. 
It was total domination by the Seton Catholic Central Saints from the very start. With help from everyone, it was a total team effort to make Senior night a success. We want to thank our seniors for all the hard work they have put in to make our lacrosse program one of the best in the area and wish them the best on their future journeys!