Behind The Scenes With Boys Varsity Lacrosse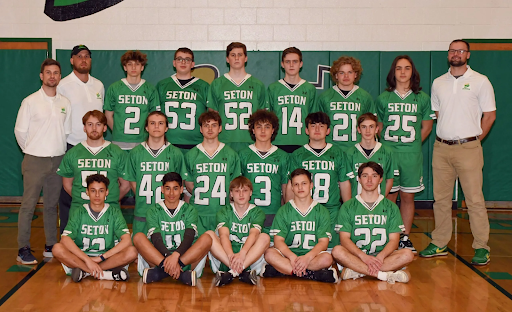 The boy's varsity lacrosse team has been very dominant this year. We see the varsity Saints squad battle with opposing players on game day, but what goes on outside of the game and what makes this team successful, and why do they have such good chemistry on the field?   
     With any team here at Seton, there is a bond you make with teammates over the course of a season. Whether your team is doing well or not, there will always be chemistry between teammates. It doesn't really matter what grade you are in, everyone treats each other as teammates and friends even when times are tough. 
     The players on this lacrosse team had opinions on why their team has such good chemistry, and why their team works well together. Senior Matthew Beach thinks that the team works well because "We might act mean and tough on the turf but at practice we are family. We crack jokes, pick each other up as teammates, and also there is no bad blood between our team. Everyone gets along, it's just like having one big family to play with." Star freshman Rory Callahan added "getting to know each other in school, and feeling comfortable with each other. That carries onto the field so we can all play comfortably together." Freshman midfielder Luke Stanton focused on the practice part of the team. He stated that "we work hard every day in practice so we are ready for our next game." 
     This boy's lacrosse team is very good on the field. This team knows one another on and off the field extremely well. This bond that they share carries onto the field, resulting in their good play, the chemistry they share together will last for a long time.