Teacher Profile – Mr: Alcius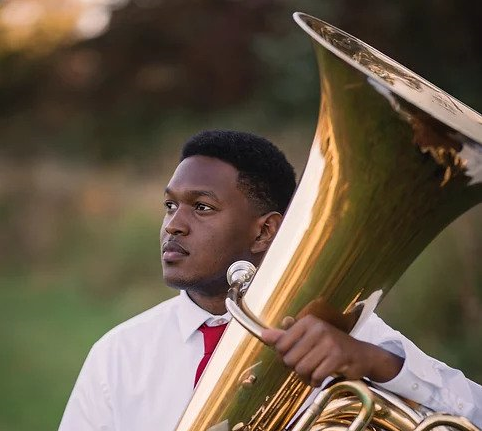 Mr. Alcius is a new teacher at Seton Catholic Central. Despite not having much teaching experience, he is a experienced musician. He grew up in Naples, Florida. In high school, he played basketball and ran track. In high school, he worked out with the football and cross country teams. While in high school he said he didn't get along with the band conductor at Naples high school.
Mr. Alcius was a good student in high school. He didn't find it difficult to balance his school work and extra-curricular activities. He said learning was straightforward ¨ All you have to do is open a book, read, and take some notes¨. He always set aside a couple of hours to focus on what was important to him. He said ¨I wasn't focused on academics when I was doing other things I always focused on one thing at a time¨. 
Although he started playing tuba in 6th grade, he didn't achieve his full love for music until he transferred to Seacrest Country Day School in 12th grade. Mr. Alcius stated that some of his musical influences were Phil Collins, Stevie Wonder, and Whitney Houston. Mr. Alcius went to Baldwin University in Ohio where he received a bachelor's degree in Tuba. He stated he chose to go to college for music due to him being able to see himself as a professional musician.
He said that if there was one song that described his life it would be Dr. Worm by They Might Be Giants. He likes the song due to his enjoyment of the character of Dr. Worm. He also said ¨ it had a unique sound and the bass solo was fun¨. Mr. Alcius. learned the most from his graduate school music teacher Mr. Mike Roylance. Mr. Alcius. said  ¨knowledgeable, knew how to accomplish tasks, and was very outgoing. 
Mr. Alcius said that he became a music teacher because he viewed it as an opportunity. Mr. Alcius says that it's much more challenging to teach high school students to play an instrument than elementary school students due to high school students having other extracurricular activities. He also stated that it was challenging due to the fact that he doesn't know if they're practicing as much as they should.
Mr. Alcius is a very accomplished music teacher who has performed with the Akron Symphony Orchestra, Hot Tamale Brass Band, and Pearland Chamber Orchestra. He has also successfully taught junior high and high school students how to successfully compete in music competitions. Only the future has in store where Mr. Alcius´s career ends up.